Products meeting the search criteria
This 40-hour pre-licensing course focuses on the role of the prospective producer, representing an insurer as to life insurance and annuity contracts. The course covers general concepts including underwriting, types of policies, provisions, riders, options, and exclusions. It explores personal, family and business use of life insurance products, as well as major tax considerations. The course concludes with an overview of state and federal laws and regulations governing insurance transactions an..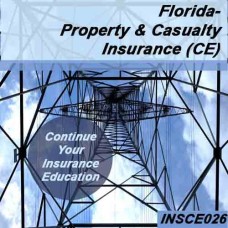 This course is designed as a continuing education course related to general lines insurance. This course is designed as a continuing education elective course for Agents, Customer Representatives and Claims Adjusters not including 3-20 Public Adjusters. Topics include: Insurance terms and risk concepts Insurance contracts Personal Auto Policy Business Auto Policy and Garage Policy Residential property and liability insurance (Homeowners (HO) & Dwelling Property (DP) policies ..
Showing 1 to 2 of 2 (1 Pages)