Products meeting the search criteria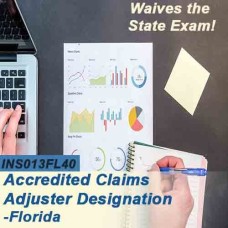 This 40-hour course fulfills the educational requirement for the 6-20 Company/Independent All-Lines adjuster license and is also the first step toward a 3-20 Public Adjuster license. It is a Florida Approved designation course, which functions like a pre-licensing course (you must take it before getting your license). Waives State exam for the 6-20! Topics include: Property and Liability Insurance Concepts Personal Automobile Policy Business Auto Policy and Mechanical..
This class satisfies the requirement that Public Adjusters complete a 5-hour update course specifically approved for Public Adjusters every 2 years, which is specific to the license held by the licensee, and covers Regulatory awareness, Licensing requirements, Insurance laws, Ethical requirements, Disciplinary and industry trends, and more. The course includes six multiple-choice Unit Quizzes and one Final Exam. It is designed as a self-paced course done entirely online at your conven..
Showing 1 to 2 of 2 (1 Pages)