Products meeting the search criteria
This Real Estate Appraiser Practice Exams course prepares you for the state Real Estate Appraiser Exam with a database of over 440 questions with over 2,200 screens of information, it consists of a course map and practice questions. The course is designed to expose you to only correct information. Topics include: Site Evaluation, Cost Approach, Sales Approach, and Income Capitalization Approach. Optional Corresponding Manual: Fundamentals of Real Estate Appraisal, Current Edition by William ..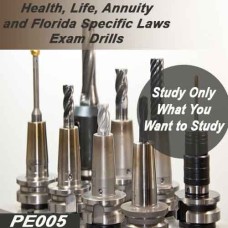 The purpose of this Florida Health, Life, and Annuity Practice Exams (PE005FL) course is to provide you with a greater assurance of passing the 2-15 examination on your first effort. It is designed to supplement the pre-licensing course by providing practice tests with questions similar to the State examination and allow you to self-evaluate your level of knowledge. The course uses a multiple choice format (which is what the state exam uses) and pulls random questions from the topics of Health I..
Showing 1 to 2 of 2 (1 Pages)